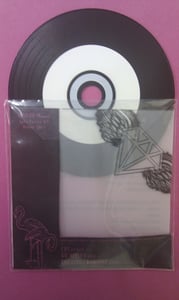 £

0.01
"Now digitally available at http://edilsrecordings.bandcamp.com/"
CUT (ITALY)
1 Awesome
2 Wait!
3 Sulphur
GO HEELED (UK)
4 Hugs and Misses
5 The Whole Shabang
6 Lemmy Know
THE LIONS RAMPANT (USA)
7 Crazy Or Liar
8 Garden
9 To Push & To Pull
Listen here : http://edilsrecordings.bandcamp.com/
We start with a swagger! A fine way to begin the split series and the EDiLS label. Nine songs make up split series#1, eight of which are exclusive!
CUT (Italy) open the whole series up with a track named "Awesome". Quite apt as thats just what it is! This is Post punk perfection that will make you dance!! Two exclusive CUT tracks follow (one being a cover of a RED RED MEAT song) and then we're treated to some sassy indierock by GO HEELED (UK). THE LIONS RAMPANT (USA) close the split series#1 and leave you breathless with three full on garage rawk tracks.
The EDiLS split series will cover a number of genre's under the rock umbrella but nothing in the series will top split series#1 CD in terms of rawness, fun and damn right stubborness in trying to make you "rockout". However, and its an important however! lets not forget that this collection of songs are about the everyday things that happen in our lives. This can sometimes be lost in all the fun, smiles, high five's and dancing! There's plenty of room for thought and dancing on these nine songs! Enjoy!